The problem: Time, or a lack thereof.
When Marion Greene decided she was going to run for the recently vacated Hennepin County District 4 seat, she had less than six months before the special election, five months until the special primary, and about two months before the all-important precinct caucuses. An intensive awareness and persuasion campaign had to be mounted very quickly meaning, more than anything, that I would be faced by a lack of good photography. Fortunately, Marion had served a term in the State Legislature and we had a smattering of official floor shots, including the pleasantly conspiratorial photo we used in the first, announcement mailing: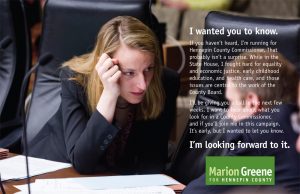 I felt the photo had a dynamic quality, so I wrote the headline and copy to match it.
Subsequent pieces used floor photos, amateur shots, and a small number of non-art-directed professional images. Using what we were able to accumulate, I wrote and designed a large number of pieces in a short time window.
Result: Marion won the special election comfortably, as well as her subsequent regular election.