The problem: Putting the whole history of a band into one small package.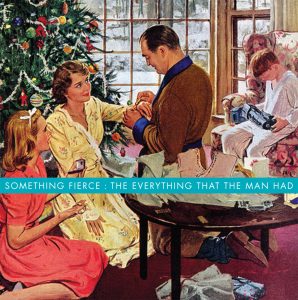 Something Fierce were a mildly successful Twin Cities band in the 1980s, releasing four albums and a cassette-only live compilation before a tragedy halted their trajectory. In the day, I work extensively with the band, helping them with marketing and promotion.
A college reunion in 2009 provided the opportunity for a retrospective package, allowing for digital releases of two popular out-of-print titles and much additional material. The advent of downloadable MP3 music had made the conventional "box set" an unnecessary extravagance (but it always was, wasn't it?), so I proposed a two-data disc set with 9 1/2 hours of music from the band and their predecessor groups.
I took the lead in assembling the track list, as well as putting together the package: a 24-page booklet with dozens of old images, and liner notes by different observers for each of the sections. I wanted to capture the distinctive xerox-machine found-kitsch style of the band's packaging from the '80s, while making it look professional and worthy of being called the "definitive set."