The problem: Creating a graphic image that reflected — and supported — the campaign's momentum.
I wasn't even in the communications department.
In 2012 in Minnesota, the hottest political campaign wasn't for a candidate. It was the fight against a proposed Republican constitutional amendment banning same-sex marriage. Minnesotans United for All Families was an enormous operation, with dozens of staff and thousands of volunteers. I very much wanted to be part of it and got myself hired as the data director. (Yes, I was qualified for the position.) However, political campaigns — even large ones — often don't have branding agencies, so I was called on to help turn some messaging research into a logo, signs, t-shirts, and stickers, all which became ubiquitous during the course of the year.
Maybe most importantly, I recommended that the signs be orange: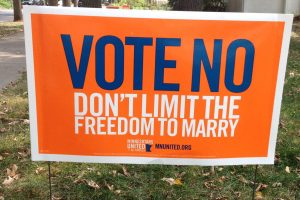 In November, Minnesota voters defeated the amendment, starting the tide-turning movement nationally. The very popular blue t-shirt I designed has become part of the permanent collection of the Minnesota Historical Society.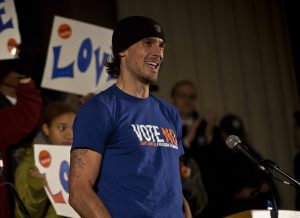 The campaign was heavily phone-focused, so advertising was kept to a minimum, but I also designed selected printed pieces, as well as the information-design bear of a phone bank script: