The problem: Turning a nice idea into a usable brand.
When Brad Bourn challenged a sitting park board commissioner in 2008, he was a relatively unknown candidate with an unconventional (for park board) focus on social equity issues. As I listened to him describe why he was running, I came up the tag line "Brad Bourn believes the parks are for everyone." I'm not a big fan of taglines for political candidates, but this seemed so core to his both his motivation and his appeal, and that we could work it into a sentence with his name, I went for it.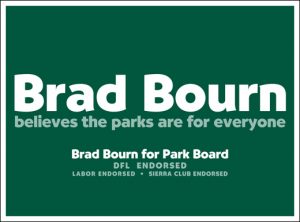 He won, and this simple tagline has become a kind of a rallying cry, as citizens groups push for greater parks access for poorer neighborhoods and immigrant groups. In 2016, using the same tagline and messaging, Brad won his third term and subsequently became president of a newly revitalized and equity-focused Park Board.
In 2012, I was able to create an introductory piece that used an atypical amateur photograph as a backdrop to Brad's story: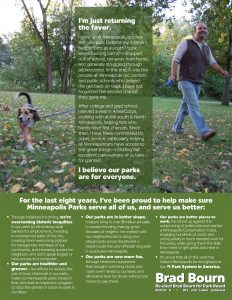 I wrote the story (it's his actual story); I think it may be one of the best political pieces I've done.